HARDYBOND PVC Adhesive
WPC WINDOW FAMILY (for casement windows)

Windows are an inevitable component of any construction project. A Window carries equal importance like a Door. There are basic window known as casement windows with openable shutters and other regular type is sliding windows. Natural wood has been a regular material for windows until uPVC windows were arrived. But countries like india where wood has been an influencing material with it's solid structure. Thus uPVC took a long time for acceptance. At the same time WPC because of typical wood-alike solid structure has started becoming popular, rapidly.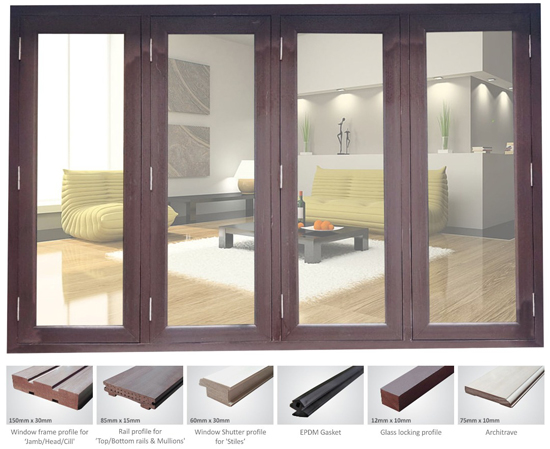 Being the pioneer in the WPC materials, we have launched WPC solid windows in casement type format with different components. We have launched a WINDOW FAMILY itself including,

1. Window Jamb (150mm x 30mm)
2. Head + Cill (150mm x 30mm)
3. Top & Bottom Rails (85mm x 15mm)
4. Mullion (85mm x 15mm)
5. Shutter profile (60mm x 30mm)
6. Rubber Gasket (EPDM)
7. Glass lock profile (12mm x 10mm)
8. Architrave (75mm x 10mm)

Features
- Easiest & Fastest window making
- Solid structure, just like wood
- Paint/Varnish possible
- For Villas, Housing projects, Resorts
- Best use at Costal & Hill sites
- made from virgin materials