HARDYPLAST SPC
SPC Floors
(Stone polymer composite floors)

Stone Polymer Composites popularly known as 'SPC' is started being used for flooring applications. It is a product from WPC family - process and material wise. This is a perfect replacement product for conventional wooden and laminate flooring those are sensitive for water & termite. SPC Flooring is a decent and high density material with larger calcium contents and this can be applied very fast in compare to other. Overall combination with PVC marble & SPC floor goes hand in hand for Interior creation.

SPC Floors are available in self click fixing format for DIY practice. Material is produced in various wooden designs with wooden textures. HARDYPLAST has brought this unique, next generation product saving lot of wood and trees. This material is maintenance free and can be used with water areas and farm areas. You can please find a few features of the product as follows: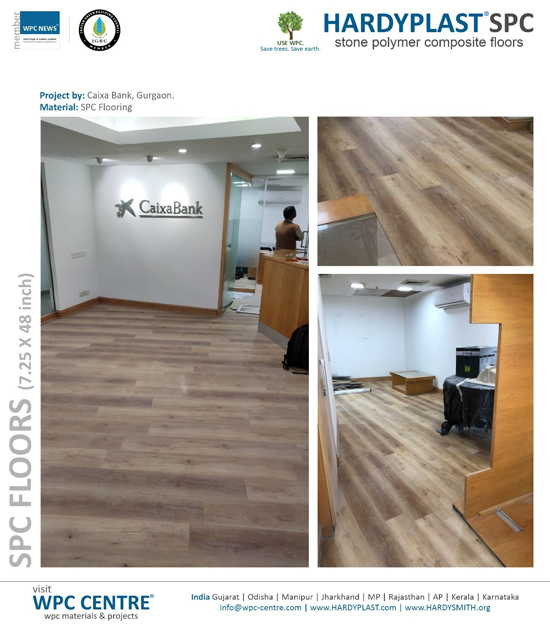 - 7.25 inch x 48 inch Floor Panels
- 5 mm floor thickness
- Self click edge designs for fastest installation
- Replacing conventional laminate flooring
- Waterproof & termite proof
- better & stronger than vinyl
- 25 exclusive wooden designs
- Surfaces with natural wooden textures
- Premium interior look at economy
- Stain free surface
- Available with matching Skirting
- A class apart architecture collection
- Pack of 10 Panels per box
- 24 Sqft floor area per box
- 0.800 kg/Sqft, 20 kg/box
Click here to Download Catalogue

Click here to SPC FLOORS - FAQs & more..