HARDYBOND PVC Adhesive
HARDYBOND (WPC PVC Adhesive system)

Cyanoacrylate' is a popular adhesive for PVC to PVC joinery system. This adhesive can weld PVC to PVC, PP to PP, PVC to ceramic and PVC to acrylic. It fixes in a few seconds only. Known brands are this type of adhesives are used for PVC to wood pasting and bonding can be done between PVC to veneer, PVC to wood, PVC to particle board, PVC to plywood, and MDF.

HARDYBOND CA can be used in wide areas of application including PVC Furniture, Helmet, flex, shoes & Foot ware, Ceramic handicraft, automobile, screen making electronic, PVC Doors and Windows, Wood Handicraft, Stone & Marble, artificial Jewellery making, Toys making artificial leather etc.

WPC PVC adhesive system is an instant bonding water resistant CA to bond PVC foamed WPC Door frames, WPC Boards, WPC Windows. HARDYBOND is instant in fixing frames and best quality grade available in Industry with high bond strength.

HARDYBOND HYPER (WPC PVC Gel-Adhesive system)

HARDYBOND HYPER is a high viscosity Gel-adhesive which has been specially formulated for pasting WPC & PVC foam boards, modular kitchens, cupboards, bathroom vanities etc in minimum time & efforts.

PVC adhesive is instant in pasting, gives great results, is versatile & ensures durability. PVC Glue is also ideal to bond rough surfaces. The application of this super glue on the surface makes it smoother & makes the pasting easy. Our special PVC Adhesive is thick & does not get absorbed by the surface.

WPC is an efficient, low cost & better-looking substitute to Plywood. It is being widely used for various tasks. HARDYBOND Gel Glue can strongly bond the WPC boards with Mica & PVC tapes in minutes without any other help, whereas other glues take up a lot of time & have to be clamped or taped to attain adhesion.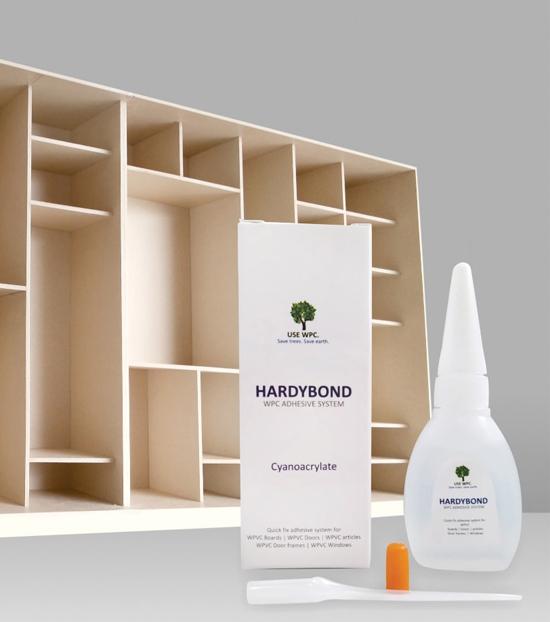 APPLICATIONS
WPVC Doors, WPVC Windows, WPVC Door Frames, PVC Light Doors, PVC Flush Doors, WPVC Bathroom Doors, PVC Kitchen Doors, WPVC Drawers, WPVC moulding joineries.

USE
1. Surface must be clean, dust free and dry.
2. Puncture the nozzle tip with the pin.
3. Apply small amount on one surface and place another surface quickly together.
4. After usage clean the nozzle tip and fix the cap on it.
5. Store in a cool and dry place below 25 deg C.

CAUTIONS
1. Adhesive sticks to the finger skin rapidly.
2. In case of skin contact immediately wash with abundant amount of water to separate the bonded fingers apart.
3. In case of eye contact wash with lukewarm water and consult the physician urgently.
4. Keep the bottle out of reach of children.