WPC PRELAM DOORS
WPC PRELAM DOORS (Solid)
Class apart. Termite proof.

Surface and structure
Door is totally jacketed with PVC thin micron imported film on front/back or both the sides, thus the beauty of door can be evolved just like a wooden door only. Moisture and termite cannot effect the structure at all. A Range of 6 PVC laminate designs from the best sources of the company gives you exotic design options for WPC decorative doors.
SOLID DOORS : A completely solid structure of WPC material gives flexibility to carpenter for sizing it into custom requirements (length and width). Density range is available from 550 kg/cum to 650 kg/cum for special requirements.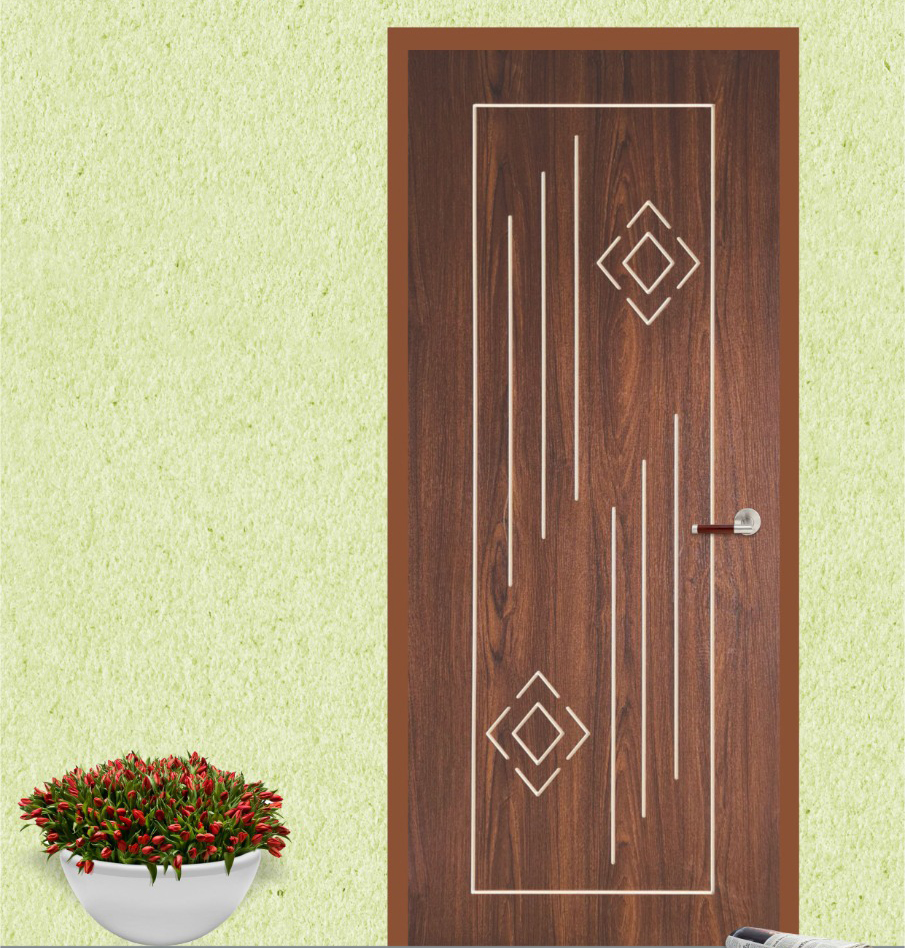 Sizes:
- Width range (inch): 26, 27, 30, 32, 33, 36, 38
- Length range (inch): 75, 78, 81, 84
Thickness
SOLID DOORS: 24mm, 28mm, 30mm
Installation:
You can install this door just like a conventional door.
Frame :
Door frame is a SOLID WPC Door frame and needs to be fitted with long screw with PVC grip (fastener type) to the wall. At several places it is being fixed with L clamps during the construction itself, which is being painted during finish stage.
Hinges, lock, latch, door closer:
All can be applied regularly, as design is supportive for fitting of these accessories.
Good screw holding:
It will hold the screw perfectly as like as a wooden door. It is designed, technically for better screw holding. Please refer to the drawing.
Other Features:
- Exclusive Designs
- Wooden finishes
- Panel & Groove formats
- High density materials
- Best screw holding
- Custom sizes for projects
- Ready to Hung
- Best for project supply
- Quality product for trade
Click here to Download Catalogue

PVC Laminates

PVC Flooring
PVC Sheet
We are manufacturing PVC Sheet, "Rigit PVC Sheet", "PVC Laminates", "Moulded PVC Skins", "PVC Flooring", "PVC Foam Sheet", "PVC Marble Sheet", "PVC Wall Panel", "High Pressure Laminate Sheet" and "PVC Ply ".