PREMIUM WPC DOORS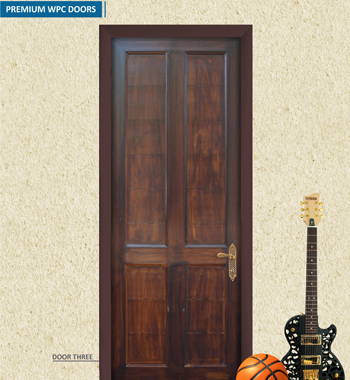 WPC PANEL DOOR
WPC PANEL DOORS are actually a similar form of popularly known 'Wooden Panel doors' those are made with Natural wood. HARDY SMITH has developed Premium quality doors for upper class architect segment, very first time in India. These door is a direct replacement of wooden panel door format. Importantly it is available with different wooden finish and different sizes.

Sizes : Doors can be available in any custom sizes with MoQ of 100 Doors.

Thickness : 32 mm standard

Installation : You can install this door just like a conventional door.

Frame
Door frame is a PREMIUM WPC Door frame and needs to be fitted with long screw with PVC grip (fastener type) to the wall. At several places it is being fixed with L clamps during the construction itself, which is being painted during finish stage.

Hinges, lock, latch, door closer : All can be applied regularly, as design is supportive for fitting of these accessories.

Good screw holding : It will hold the screw perfectly as like as a wooden door. It is designed, technically for better screw holding. Please refer to the drawing.

Paint/Polish capability : You can apply wooden finishes or paints on this material and high end Doors can be created.

Wooden finishes in many colours are quite famous and decent for high end villa applications. You can apply Paint, coat, varnishes etc. as per your requirement.