WPC GAZEBOS
WPC Gazebo Manufacturer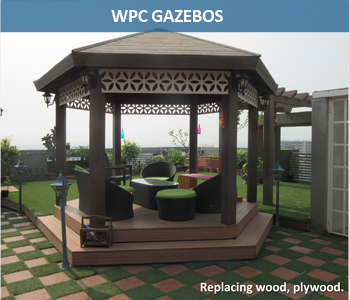 Gazebos have been fixtures in gardens for centuries, originally called summerhouses, screen houses, kiosks, pavilions, pergolas, arbors, grottos, or pagodas, the existence of gazebos has been traced to the earliest gardens.

Gazebos were common in Egyptian gardens 5,000 years ago and members of royalty were the first to have them. The structures were also popular in ancient Rome and Pompeii.

China's gazebos were also quite elaborate, while those in Japan, often called teahouses, were used in conjunction with the revered Tea Ceremonies, and were the places to rest, get in touch with one's spiritual side, and absorb the beauty of the garden. During the Renaissance, gazebos became popular in the gardens of monasteries, as shrines and places of meditation. During the late 1700's, England and other parts of Europe got caught up in a craze for Chinese-style summerhouses, which began popping up in gardens everywhere.

All above conventional gazebos were being made especially with natural wood that needs periodical maintenance. Construction wise, A WPC Gazebo is developed with Pillars, Rafters, Roof covering profiles, Deck floors, Fencing, Designer Grills, Lamp posts and rest benches. It is a waterproof structure and can be made with different colours and rustic finishes.

We take turnkey projects for Gazebo installations and we fix it with captive components and fixtures designed by us. Different Gazebos are available in Square, Hexagonal and Octagonal shapes. Gazebos are being available with or without railing and flooring combinations.